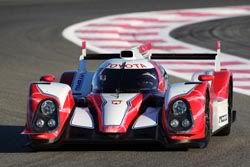 Toyota was the one perfected the mass-production of hybrid cars in the market by introducing Toyota Prius back in 2000, beating the Honda hybrid that time.
Audi perfected the first fuel-efficient racing car by introducing its diesel LM cars in 24hr Le-Mans, putting them to the podium. Toyota also introduced a fuel-efficient racing car on an old GT-500 Denso Toyota Supra, converting it to a hybrid. A potential winning strategy for an endurance race by minimizing the pit-stop of the race car for refuel.
Today, Toyota will again made their mark in fuel-efficiency by introducing their hybrid LM racing car that will compete in Le-Mans 24hrs; Toyota Racing's TS030 Hybrid.
The introduction of this racing car will definitely change the world of motorsports and Toyota will pioneer that.
The said car is the predecessor of iconic Toyota TS010 and TS020 which participated in Le-Mans with podium success in the 90's — The term "TS" in the codename means Toyota Sports.
The said car will be equipped with a V8 3.4-litre natural-aspirated, gasoline-fed engine combined with a hybrid system with a capacitor storage from Nisshinbo as their official partner. Also, the introduction of the THS-R— TOYOTA Hybrid System - Racing —powertrain which will deliver maximum performance and efficiency.
Below is the official technical specification of the racing car:
TS030 HYBRID
Type: Le Mans Prototype (LMP1)
Bodywork: Carbon fibre composite
Gearbox: Transversal with 6 gears sequential
Gearbox casing: Aluminium
Driveshafts: Constant velocity tripod plunge-joint driveshafts
Clutch: Multidisc
Differential: Viscous mechanical locking differential
Suspension: Independent front and rear double wishbone, pushrod-system
Springs: Torsion bars
Anti roll bars: Front and rear
Steering: Hydraulically assisted
Brakes: Dual circuit hydraulic braking system, mono-block light-alloy brake calipers front and rear
Discs: Ventilated front and rear in carbon
Rims: Magnesium forged wheels
Front rims: 14.5 x 18 inch
Rear rims: 14.5 x 18 inch
Tyres: Michelin radial
Front tyres: 36/71-18
Rear tyres: 37/71-18
Length: 4650mm
Width: 2000mm
Height: 1030mm
Fuel capacity: 73 litres
Powertrain: TOYOTA HYBRID System - Racing (THS-R)
Engine: 90° V8 normally aspirated engine
Fuel: Petrol
Engine Capacity: 3.4l
Valves: 4
Air restrictors: 1 x 43.3mm
Capacitor: Nisshinbo
Front Hybrid Motor: Aisin AW
Rear Hybrid Motor: DENSO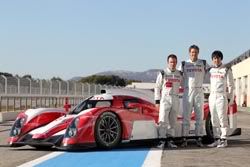 Drivers for this car are former F1 and Le-Man driver Alex Wurz; Le-Mans and Sebring driver Nicolas Lapierre; and Japan GT driver Kazuki Nakajima.
This will be another milestone for Toyota by introducing their official racing hybrid car.