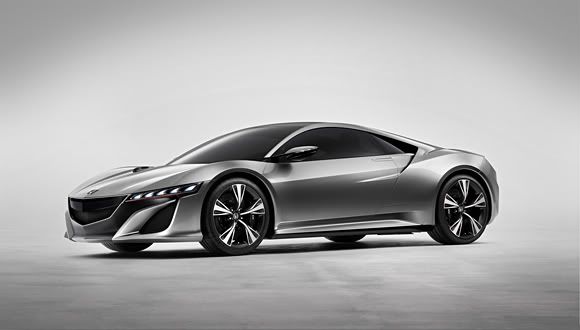 Honda will officially released their latest vehicles at the 2012 Geneva Motor-Show. This event, Honda will introduce latest technology, engine, and vehicles that enthusiats and Honda fans will definitely wait for their release.
Honda officially release their latest concept on their flagship model, Honda NSX. Finally, they already have plans to revive the iconic sports-car in the world of motorsports. But this time the said beast will be a hybrid; it will be their answer to the rising trend in automotive and motorports.
The concept car will be equipped with a V6 engine in a mid-engine all-wheel drive layout — the first time that Honda will opt-in on their latest NSX in all-wheel drive layout. Since the car will be an all-wheel drive car, they will introduce the Sport Hybrid SH-AWD® (Super Handling All Wheel Drive™) hybrid system which will be available in the NSX concept.
Here are the images of the Honda NSX Concept
Other Honda Vehicles and Technologies To Be Introduced At the 2012 Geneva Motor-Show
Honda also will introduce three vehicle and a new engine for their future vehicles; here are the list:
Honda EV-STER
Honda will introduce their latest concept that will compete— maybe —on Tesla's electric roadster. From the word itself 'EV' this car I guess will be their electric car. The Honda EV-STER will in a two-seater, rear-wheel drive, open sports car — just like a Catterham Super-7. Images has not yet officially launched on this model.
European CR-V Prototype
Honda also officially announced that they will display the prototype model of the 2012-2013 Euro-spec Honda CR-V. The common buzz on the net is that the JDM-Spec 2012 Honda CR-V is the same as the Euro-Spec Honda CR-V because of the position of the steering wheel, I guess some of them are wrong. Honda also announced that their Euro CR-V will have a different design compared to the recent released of the Honda CR-V which was launched in Asia and North America; added to that, Honda must follow the European-standards on their vehicles so I guess even the engine will be different.
Euro-spec Honda Jazz
Honda will also introduce an two all-new Honda Jazz. The selections are the Honda Jazz Si, which will equipped with sporty suspension, features, and styling — both interior and exterior; hope not a facelift here.
The introduction of Honda Jazz 1.2 which will follow the CO2 emmission reduction which is implemented in Europe and the introduction of Idle Stop technology for fuel-efficiency and mileage.
1.6 liter diesel engine with Earth Dreams Technology
Finally, someone made it right; Honda will also introduced a compact-diesel engine for better mileage. Hope this engine will reached the Asian market in the future.
The said technology and vehicles will be introduced this coming March.