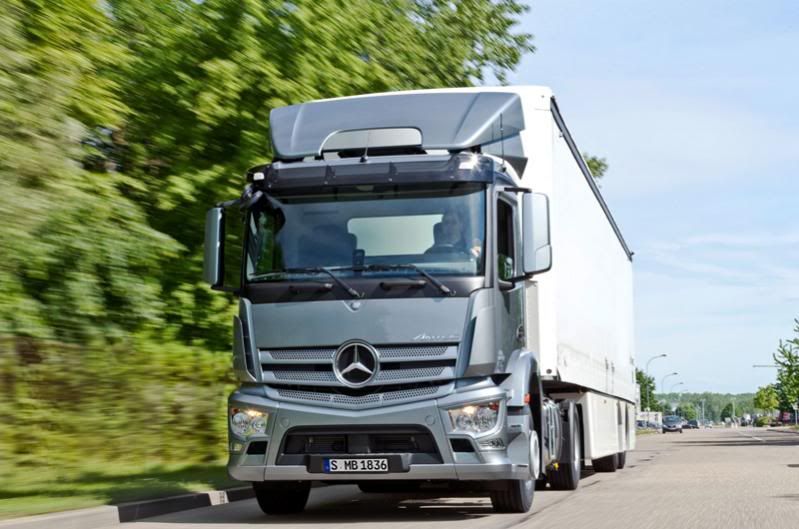 Daimler - makers of Mercedes-Benz, launches their newest vehicle for their trucking segment which will definitely is a must for those who will invest for a new truck or lorry, Daimler officially launched the Mercedes-Benz Antos.
By the looks of it, it is apparent that this one is built for transporting anything from anywhere which they are designated to.
Starting on the engine, it is a Euro VI compliant Diesel engine assuring the consumer that this vehicle is a environmental compliant truck. Buyers has a choice on selecting engines and power output depending on their business needs, you can choose from 175 kW (238 hp) to 375 kW (510 hp) with a three inline six-cylinder engines displacement of 7.7CC, 10.7CC and 12.8CC and power output from 175 kW (238 hp) for lighter applications as a single vehicle through to 375 kW (510 hp) for heavy-duty tractor/trailer and tractor/semitrailer combinations used under topographically very demanding conditions.
At the same time, Antos uses fully-automated, quick-shifting Mercedes PowerShift-3 transmissions with eight and twelve gears. Also, it has a crawler technology that offers benefits for those short-radius transportation, which features a high proportion manoeuvring sequences in tight unloading places: when in start-off or reverse gears, the driver can control the speed of the Antos using only the brake pedal.
Other feature that has this truck that will definitely benefit the driver are electronically-controlled braking system EBS with disk brakes all-round, the highly-effective engine brake, the anti-lock braking system ABS, the acceleration skid control system ASR, and Stability Control Assist. The introduction of ABA 3 system which automatically initiates full brake application on detecting stationary obstacles.
Here are more images of Mercede-Benz Antos: